JAWS screen reader
JAWS is one of the most popular screen readers, which allows students to control them computer and provides access to all programs installed on the computer, although the user does not see on the computer screen.
The main advantages of JAWS include:
it speaks well in Slovak synthetic speech,
it reads documents by letter, word, line, sentence, paragraph or fluently,
keyboard voice response can be switched on during writing by character or by word,
it can manage Braille display that the user can connect to a computer to read information displayed on the screen in Braille,
it can inform the user about the type and size of the font, about font and background color, when cursor changes shape and other attributes,
it provides expanded support for the most popular applications such as MS Word, Excel and PowerPoint,
it includes special features to support Internet Explorer,

it allows movement

when browsing

web

pages and

read them

by

the link

, title and

frame,

it announces

hierarchical level

of headings

, and so

makes

the logical structure of

a document,

it displays specific, extensive help for the current item when you press Insert + F1.
JAWS works with Lambda editor, thus enabling easier understanding of mathematical expressions and provides the key to education for the visually impaired students.
MAGIc magnification program
Magic is a powerful magnification program for zooming information and navigation on the computer screen.
The main advantages of MAGIc include:
it provides

magnification

2-36

times with

extermination of the

fonts and colors

,

automatic

monitoring of

mouse

cursor

to

ensure its permanent

visibility

on the bigger

screen

,

expansion features

of

the mouse pointer displaying

to help

easily

locate and

follow the mouse

,

configurable

types of

magnified

viewing

,

optionally

inverse

color viewing

that improves

contrast and

makes reading easier

,

easily remembered

keyboard shortcuts

,

that

allows to quickly

browse

any document,


help

to all

controls that

can be called

by

keyboard command

Insert +

F1

.
The combination of magnification program MAGIC and screen reader JAWS is a magnification program with voice support, which allows to:
pronouncing viewed magnified information, or
magnify and illuminate spoken word on the screen,
read  zoomed words or lines when the mouse pointer is passed over them.
Speech and magnification can be used separately and simultaneously.
NVDA (nonvisual Desktop Access)
NVDA is free screen reader, which allows visually impaired or partially sighted students use the computer. NVDA can changing text on the computer screen, or scanned text to speech through voice output.
Its main advantages include:
click to the appropriate text area by using the mouse pointer, or by using the arrows on your keyboard can be determined what has to be read,
using NVDA and connected Braille display can be converted text to Braille,
it is able to work with Lambda editor, which makes it easier to understand the mathematical expressions,
cooperates with the scanning pen C-Pen and can convert scanned text to speech,,
provides easy access to internet pages content for the visually impaired.
Desktop Video Magnifier Twinkle Bright
Twinkle Bright's desktop magnifier, which is mainly designated for the increase of reading for the visually impaired people. It also allows viewing and magnification images, drawings, writing and execution of the various work activities that require magnification. The basis of the desktop magnifying glass is movable reading table on which is placed reading text or picture that is necessary to increase while the magnified text is displayed on a LCD monitor through the camera's sensor, which is fixedly positioned over the reading table. The control panel is an integral part of the reading table, so the hand is not necessary to relocate when the reading text is magnifying.
Main features of Twinkle Bright:
continuously customizable magnification in the range of 2.3 – 90x,
autofocus
brightness, contrast and magnification are controlled electronically by pressing the button on the control panel,
several viewing modes: Contrast reading mode in positive or negative, full color Photo Mode for viewing images,
other functions, such as pointer, artificial color (up to 28 color modes), guide lines and reader window.
Looky+
The Looky+ is handheld electronic magnifier with integrated TFT screen that, allows to read text and look at photos and comes with a magnification range of 2 times up to 20 times. The Looky+ now also allows the user to read in different color modes and also incorporates a superior contrast ratio.
The main features of Looky+:
LCD Display size of 3.5 inches.
Extended period of use when the batteries are fully charged (up to 2,5 hours).
Only 200 grams in weight (incl. batteries).
Full colour and contrast reading modes: Black/White – White/Black – Yellow/Blue –Yellow/Black.
Extra reading mode for when using the Looky+ to look at digital displays.
Very bright LCD screen, higher contrast.
Folding handle.
Advanced settings, warningsounds and brightness can be adjusted.
Very user-friendly.
Freeze image (snapshot / photo function).
Can be easily adjusted to a position which helps the user in writing
Memory functions.
Easy navigation towards buttons.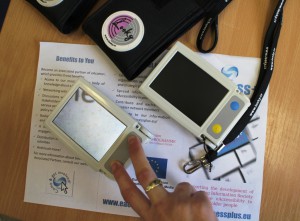 EASY Reader
Easy Reader is a portable device with a thin aluminum body and built-in battery that reads printed text using Natural voice Laura.
Control is performed using the buttons on the front panel.
The device has two USB ports to which can be connected storage medium.
Scanned text, photos, texts and the spoken text is automatically saved on the storage medium in MP3 format.
Recordings can be played in MP3 player.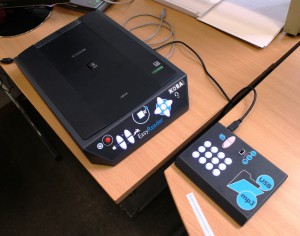 ZY-FUSE heater
ZY-FUSE heater is a device for the production of relief images, diagrams or graphs.
Enables visually impaired students access to the graphic content and thus enables them to better understand the text.
This method is simple and fast.

For production

of

relief

images

it

uses special paper

Zy

–

Tex2

.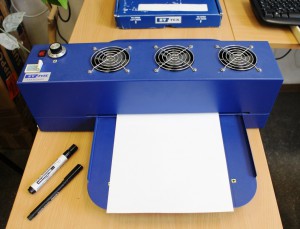 Index Everest printer
Index Everest printer is lightweight and easy to carry the braille printer that has all the features of the commonly available printers.
Its most important benefits include:
five printed modes,
ergonomically designed control panel labeled with normal font and Braille,
logical sequence of the commands with voice instructions.
quality, printed speed (one hundred characters per second) and low frequency of failures,
copy feature which is easily operated from the front panel.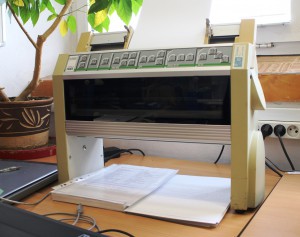 Braille display FOCUS 40 Blue
Focus 40 Blue is a new model of Braille display made by FreedomScientific, which offers new and improved features.
Its main advantages include:
it features a compact dimensions, Braille keyboard and wireless transmission via Bluetooth,
in cooperation with JAWS it offers excellent orientation at work, translating and learning Braille,
it works with Lambda editor.
there are 40 cells for displaying the characters that are very well palpable,
it has ten configurable hot keys that can be easily selected and configured in the JAWS,
PC connectivity is also available via USB 2.0,
it is able to work up to 20 hours by using the wireless transmission.

MAGIc/JAWS keyboard
MAGIc/JAWS keyboard is a special keyboard that is directly made up to 22 additional keys and is designed especially for direct control of program MAGIC.
Its most important benefits include:
it contains bold and high contrast keys,
includes a separate key for start the program Magic,
it includes a separate key to increase or decrease the magnification, contrast, screen dividing , and speech rate,
also it includes separate keys for changing the useful features of the program Magic as cursor improvement, mouse and others.