IntegraMouse Plus
IntegraMouse Plus is highly sensitive mouse that is used to control the computer's functions with mouth.
Its most important features include:
can be used in both seated and lying down, and contains all the basic functions of a mouse,
mouse, left, or right click is made very easy with suction or blowing,
the click-and-drag function,
three working modes (mouse, joystick, mouse),
easy installation, wireless operation, rechargeable battery.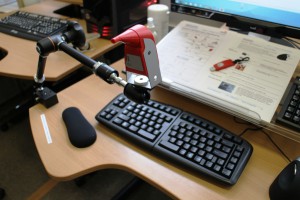 TOBII PC Eye
Tobia PC Eye is an additional device to a computer that is connected via USB, replaces the traditional computer mouse and allows to navigate and control the computer or laptop or tablet just by using eye movements.
Its main advantages include:
possibility of computer, laptop, or tablet control regardless of the eyes color, glasses using, contact lenses, lighting conditions, or involuntary movements of the head,
comfortable access to computer Windows OS desktop and application management by intuitive two-step process and using the Gaze Selection functiom,
the ability to click on the small goals because the function Gaze Selection has a unique zoom capability that provides pixel-precise control of where to click, what to catch and where to move,
risk reduction of unwanted clicks which resulting to smaller amount of clicks errors, since the function Gaze Sellection enables fast and accurate access to all the functions of a computer,
includes a built-in keyboard for text or website address input.
IntelliKeys
IntelliKeys is a programmable touch keyboard for people with physical, mental, visual impairment, as well as for students with specific educational needs.
The main advantages of keyboards include:
keyboard can be controlled not only by hands, but also by feet, chin or nose,
the keyboard comes with six standard templates that allow quick and easy changes of keys distribution,
keyboard settings can be customized to the individual needs of the user (eg. keyboard power touch or keys speed response etc.),
keyboard control as it is possible in the horizontal or the vertical position.

Stairclimber

The mobile device that solves wheelchair accessibility in all buildings of the Technical University in Košice.
Allows immobile and physically impared students moving on a wheelchair to overcome single-arm and Multi-armed staircase.
It is moved up the stairs by strips of highly adhesive material.
It is powered by a rechargeable battery, it requires no installation and therefore for its operation requires no building modifications.