Scanning pen C-Pen
C-Pen is a small handheld scanner, which allows to enter printed text of books, articles, documents into the computer by simply method and has a special mode for reading numbers. Text scanning is performed by moving the device over the printed text.
The scanned text can be transferred to the computer as:
text-to-cur-sor, to the place where the cursor is currently located, such as MS Word, dictionary or
in the tool text-to-speech software, that changing text to speech.
The main advantages of using a scanning pen C-Pen are:
scanning of texts from printed materials such as books, magazines, and scientific research papers,
enables people with dyslexia inserting a text into a computer, which is then processed by software that can changing text to speech for example. NVDA,
thanks to Bluetooth wireless technology can be the C-Pen also connected to smartphones and tablets with Android OS.
Reading pen PenFriend
Penfriend is a device that is used for labeling and subsequent search for objects tagged with special adhesive labels. On the labels in the form of small stickers can recorded  messages, a voice description of the objects which should be marked. Thus formed labels are subsequently glued to the object and by reading pen PenFriend can objects be located and identified.
Main features of the reading pen:
an excellent tool

for labeling

anything

,
s

imple operation

using four

buttons with

built-in

voice

accompaniment,

t

he capacity of

the reading

pen is

1 GB which

allowing

up to 70

hours of recording

,

using

USB

cables can be

downloaded

into reading pen

MP3

files from the computer

.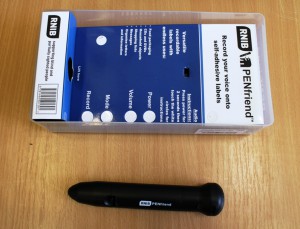 LightWriter
Lightwriter is a lightweight portable communication device that allows changing typed text to speech. It is designed for people with limited communication skills.